Export awards are given to top exporters recognizing their meritorious performance. We are proud to receive this laurel that inspires us to increase export capacities as well enhance the competitiveness to capture the global markets.
OEKO-TEX – Eco-Friendly
Our yarn has been endorsed as an eco-friendly one by the International OEKO-TEX Association, for the avoidance in usage of harmful chemical substances during our production process.
GOTS – Organic Cotton
We are certified by the Global Organic Textile Standard (GOTS) for producing yarn from organic fibres.
Best Exporter Award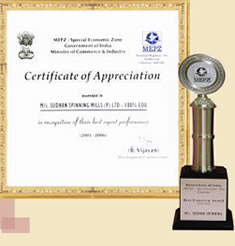 Government of India has awarded Exporter Trophy and Certificate for achieving the highest yarn exports in India under EOU category.