S. Chennimalai Gounder Charitable Trust embarks on a noble mission to transform the society as a whole, especially the people inhabited in the vicinity of Dindigul. As a diversified venture of Corporate Social Responsibility, we do involve in the following CSR activities that make the world a better place to live in.
Rain Water Harvesting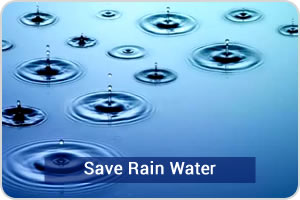 Dindigul and its outskirts are prone to drought. Taking into account this serious issue, it is resolved not to use underground water for the numerous processes performed in the units. Rain water harvesting structures have been constructed in various parts of the mills which provide sufficient water for the internal requirements of Shivaraj Spinning Mills. These formations provide sufficient water for our usage and recharge the ground water level. The farsighted scheme is implemented in all our units and educational institutions.
Wind Mill
Being a firm supporter of the "Go Green" movement, we create natural energy from wind power and make conscious efforts to reduce its carbon footprint. Taken the initiative of building wind mill from the year 2005. These wind mills are located in Tamilnadu. We are having more than 400 wind turbines in spread across Palladam and Udumalpet area. This has a capacity to generate 300 MW power. As on today 90% of power consumed for all manufacturing units are coming from these wind mills.
Tree Plantation
Tree plantation to increase the green cover that help in balancing the climate and the environment. By donating saplings and by taking responsibility to nurture them till the maturity stage we contribute to carbon reduction.
SSM School
SSM group initiated building institutions for the future generation. The beneficiaries are from the workforce of SSM, the people living in the neighbourhood of all the spinning mills and the families which migrate from other areas.
Marriage Hall
In order to fulfill the social commitment, S. Chennimalai Gounder Charitable Trust has constructed a marriage hall in Tirupur. Its architectural design, amenities, comforts and its location at the heart of the city make it a boon for the people of the city. A number of weddings, community meetings, welfare club functions, social get together are conducted in the hall making it an important land mark of the city.
Free Food Distribution