The management team comprises of young & energetic people from different streams with best industry talent. They put together the business strategy and undertake the most challenging assignments to uphold customer satisfaction, as well ensure the business objectives are met. They look to operations and formulate strategic decisions in an effective manner to take the business to the next level.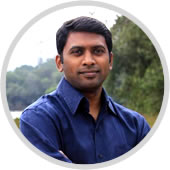 Shri.K.Sivaraj
Managing Director
Sivaraj is a versatile personality having more than 20 years of experience in Textile Garment & Manufacturing industry. Born & brought up in an entrepreneurial family background with exposure to every field of business, he is a true leader & visionary person. He is a qualified engineer & business graduate from Philadelphia University, USA. Proven himself as a successful entrepreneur throughout his career building new business and running 9 huge manufacturing operations.
Subrata Pal
CEO – Apparel & Brand
A management graduate from leading business school, having an extensive experience of 18 years in Textile, Retail, Branding & Marketing, Business Development (B2B & B2C), Operations, multi-channel product distribution, E Commerce, strategizing businesses, developing new markets etc. He has worked in leading Textile and retail companies of India and having global exposure of Textile and Apparel industry in terms of working in North America and Europe markets. A proven leader of having track records of growing businesses multi-fold with sustainability. Well-versed with management skills in developing and implementing strategic plans to increase efficiency & effectiveness within a business.
Sanjay Drolia
President – Weaving
A textile veteran with 20 years of rare experience in both technical as well as commercial aspects. He is a Commerce graduate, ICWAI. Versatile knowledge of Operation, MIS, Costing, procurement, strategy, Project management, Marketing, Sales, IT and various process improvement initiatives
He has worked in top textiles companies of the country with global exposure.
Karnan
GM – Operation Weaving
An engineering graduate (Mechanical) from a reputed Engineering College in Tamil Nadu, having a sound knowledge and experience of 26 Years in Textile (Weaving) in the area of Production and Maintenance, New Product Developments. He has worked in leading weaving mills in Tamil Nadu, India and having exposure of export weaving products.
A Proven leader of having track records of growing business by skills development and implementing strategic plans to increase the efficiency and effective of the business.
Moorthy
GM – Operation Spinning
Started his carrier as spinning Technologist in the Coimbatore textile hub. He served various spinning organisation ranging 50,000 to 100,000 Spindles. Has wide range of experience with internationally reputed brand machinery namely Rieter, Trutzschler, schalthorst, Muratech, LMW etc. In the midst of 1996 he joined in SSM Group and equipped himself with multi-faceted technologies in the area of HR, Quality Maintenance and production. Presently working as general manager in SSM group of Mills managing about one lakh spindles. With more than 23 years of experience in this group he has specialised in hosiery, wrap, and fancy yarn production.